We will arrange a Spine of Warrior – Movement workshop with Kaide Bärlund 22.9.2018 at 12:30.
Place: Parentesen 4, 68600 Jakobstad (Rådmans skola, gymnastiksalen)
Registration and payment from 12
Price
20 € FEKM members (and basic course participants)
25 € Others
Registration: https://goo.gl/forms/AwjTahPlyJWuPa0l1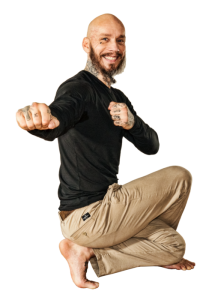 MOVEMENT Me kaikki liikumme päivittäin, joko urheilun muodossa tai vastaten jokapäiväisen elämän tilanteisiin. Kyykimme, taivumme, kierrymme, työnnämme, vedämme, ryömimme, kävelemme, juoksemme, hyppäämme, kiipeämme, heitämme, poimimme, kuljetamme jne. Mutta kuinka kivuttomasti, vapaasti ja hengästymättä?
MOVEMENT-workshopissa saat yleiskatsauksen Movement -kulttuuriin ja kehität liikkuvuuden ja kehonhallinnan tärkeimpiä osa-alueita. Harjoittelun aikana työskentelet aivan uudella tavalla mm. selkärangan, nivelten ja jänteiden sekä lihasten ja oman hengityksen kanssa, muokaten mieltäsi ja kehoasi kokonaisvaltaisesti terveemmäksi, vahvemmaksi ja jäntevämmäksi liikkujaksi. Tulet saamaan notkeutta ja voimaa ja löytämään lihaksia joita et tiennyt sinulla olevan.
Movement-harjoitukset koostuvat mm. kyykystä ja sen eri variaatioista, sillasta, hengitys- ja rentousharjoituksista, sekä dynaamisesta venyttelystä. Harjoitteet auttavat sinua palauttamaan takaisin lapsuutesi liikkuvaisen henkilön, joka seikkailee, leikkii ja on vuorovaikutuksessa ympäristönsä kanssa ilman sidottuja liikeratoja. Kehität niveltesi liikkuvuutta, tasapainoa sekä kehon tietoisuutta, koordinaatiota ja hallintaa. Haasta maailmankuvaasi voiman, liikkuvuuden ja terveyden osalta ja täytä aukkoja liikkuuvuudessa, joihin perinteinen voimaharjoittelu ei kiinnitä huomiota.
More info about Kaide and the Spine of Warrior concept can be found here: https://www.spineofwarrior.com/